At the heart of what matters
Rethinking heart-lung support: We focus on the essential needs of patients and their treating physicians in situations where extracorporeal support is critical. Our innovations and solutions are redefining the field of Extracorporeal Life Support (ECLS and ECMO) by facilitating full concentration, maximum safety, and easy access.
We are Hemovent. At the heart of what matters.
Hemovent products are currently not available for distribution or sale outside of the European Union.

Bionique Flow Technologies
Bionique Flow Technologies
Human circulation provided the blueprint for Hemovent's proprietary Bionique Flow Technologies. Our intent was to create systems that perform the most gentle possible extracorporeal perfusion and oxygenation with the least possible impact on natural blood and cell physiology. Put simply:
Minimize sheer stress!
Maximize wash-out!
Our Bionique Flow Technologies augment patient care and enable clinicians to apply life-saving technologies safely, in a way that is easy to use.
Bionique Flow Technologies: Close up
Hemovent's Bionique Flow Technologies offer a variety of opportunities to enhance safety, efficacy, performance, and ease of use to create fundamentally new ECMO and ECLS solutions.

The MOBYBOX™
The MOBYBOX™ is a miniaturized heart-lung machine that uses Hemovent's proprietary Bionique Flow Technologies as its basis. As the first self-contained and fully integrated Extracorporeal Life Support (ECLS) system, it is designed to significantly improve safety, ease of use, mobility, and performance for heart and lung support.
ECLS patients are found in multiple treatment settings, which calls for flexible system configurations. The MOBYBOX™ system's pneumatic drive line allows for easy separation of the patient unit from the controller and therefore offers unrivaled versatility.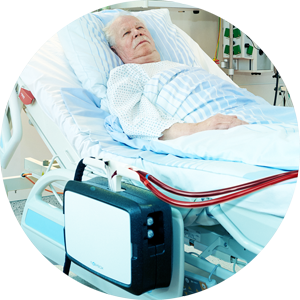 Clinical Setting
The patient unit can be placed directly at the patient's bedside and always stays with the patient – even during prone positioning and mobilization. The Master controller can be placed in a separate position, provides back-up gas supply functionality, and includes full gas blender capabilities.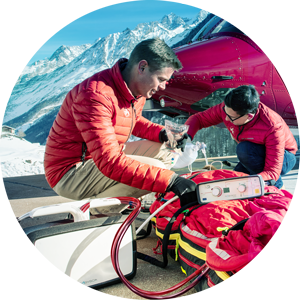 Emergency
Because it does not require an electrical power source, the MOBYBOX™ is ideally suited for situations with limited infrastructure such as emergency applications in the field or during transport. The ultra-small Runner controller combines unrivaled mobility with the safety that comes from ease of use.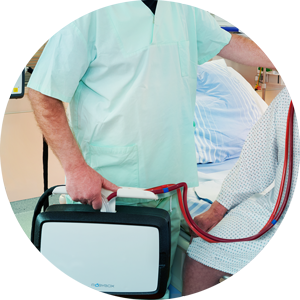 Mobilization
The MOBYBOX™ system facilitates patient mobilization, particularly during ambulation, because its individual components can be separated and positioned individually. The MOBYBOX™ can be easily carried and the flexible pneumatic connections allow a sufficient radius of movement.
Imagine simplifying critical care treatment for millions of people with a device that can fit in a backpack. Hemovent has done just that: developed and manufactured a new proprietary platform technology for heart and lung support systems that will make high-end critical care so much safer and easier. And in doing so it has the potential to help about 2.2 million patients worldwide who are suffering from acute cardiac and respiratory failure.
Hemovent is backed by a consortium of institutional investors.