Physiotherapy measures, awake ECMO, and patient mobilization contribute significantly to preventing neuromuscular weakness and impaired physical functioning, which are well-known consequences of prolonged immobility. The MOBYBOX™ system design makes it easier for caregivers to facilitate safe patient mobilization.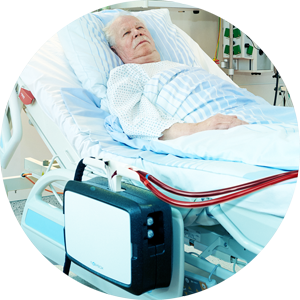 Clinical Setting
The patient unit can be placed directly at the patient's bedside and always stays with the patient – even during prone positioning and mobilization. The Master controller can be placed in a separate position, provides back-up gas supply functionality, and includes full gas blender capabilities.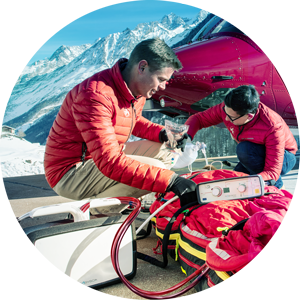 Emergency
Because it does not require an electrical power source, the MOBYBOX™ is ideally suited for situations with limited infrastructure such as emergency applications in the field or during transport. The ultra-small Runner controller* combines unrivaled mobility with the safety that comes from ease of use.
*Current products intended to be used in professional healthcare environment only.
HEMOVENT PRODUCTS ARE NOT CLEARED OR APPROVED BY THE
U.S. FOOD AND DRUG ADMINISTRATION AND ARE NOT AVAILABLE FOR SALE IN THE U.S.